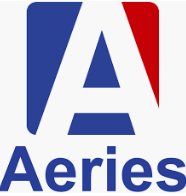 Using Aeries: 
Please check Aeries once a week to keep updated on your child's progress! If you have a question about a particular grade, I encourage you to ask your child first, then let the teacher know if there are further questions. I try to put comments in when there might be concern or confusion, but I'm always happy to have a conversation about your child's progress. 
You can find grades for each of your child's classes on the Homepage in Aeries. Click the blue link to each class to find specifics about that class. Each assignment is entered with a title that should indicate what was asked of the student. If there is more information necessary, you'll find it in the description. You can click the + to the left of the assignment to get a quick description. 
Categories: Each assignment is given a category so that students and parents understand how they are progressing in a bit more detail. The categories add up to the overall subject grade. Categories are listed at the bottom of each class page under TOTALS. ELA has categories of Reading, Writing, and Speaking/Listening. Math has domain categories: Number Systems, Ratios/Proportions, Expressions/Equations, Geometry, and Statistics. We also added a Work Habits category, as we find that there is often a direct correlation with how students are working in math and how they are performing on assessments. 
Grades (aka Scores):
4: Exceeds learning standards
3: MEETS 6th GRADE EXPECTATIONS
2: Approaching learning standards
1: Not at grade level 
Each assignment is given a score above, with the possible addition of .5 to each number. If at any time a student is not happy with a grade, they may communicate with the teacher and find a way to show new learning for a new grade. Occasionally, a grade may not be redone, depending on classroom circumstances. (A note on %: Standards referenced grading does not always translate in Aeries. We recommend that you look at the grade itself to understand how your child is doing.)
Missing Work vs. Not Yet Graded Work: Missing work is indicated by a red/orange square () This means that the student did not turn the work in. They need to make an arrangement with the teacher to get the work done/turned in. Not yet graded work simply does not have a grade with it, but it does show how many points the assignment is worth (e.g. –    /4). Check the column that indicated "Grading Complete" to see if grades have been entered yet. All assignments must be completed by the end of the marking period in order to receive credit! Students are counseled on this, and we do explicit teaching/calendaring on prioritizing work in order to have an accurate progress report. 
Comments: As much as possible, especially when a grade is outside of what's expected, I add a comment to let you know more details. Because a "3" communicates that the student is doing what is expected, there are normally not comments with a 3. Often, the comment will be a suggestion that the student redo/resubmit the work to show updated learning. 
Using Aeries:
¡Por favor revise Aeries una vez por semana para mantenerse actualizado sobre el progreso de su hijo! Si tiene alguna pregunta sobre un grado en particular, le animo a que primero le pregunte a su hijo y luego informe al maestro si hay más preguntas. Intento poner comentarios cuando puede haber preocupación o confusión, pero siempre estoy feliz de tener una conversación sobre el progreso de su hijo.
Puede encontrar calificaciones para cada una de las clases de su hijo en la página de inicio de Aeries. Haga clic en el enlace azul a cada clase para encontrar detalles sobre esa clase. Cada tarea se ingresa con un título que debe indicar lo que se le pidió al estudiante. Si necesita más información, la encontrará en la descripción. Puede hacer clic en + a la izquierda de la tarea para obtener una descripción rápida.
Categorías: a cada tarea se le asigna una categoría, de modo que los estudiantes y los padres entiendan cómo están progresando con un poco más de detalle. Las categorías se suman a la calificación general de la asignatura. Las categorías se enumeran en la parte inferior de cada página de clase en TOTALES. ELA tiene categorías de lectura, escritura y expresión oral / comprensión auditiva. Las matemáticas tienen categorías de dominio: sistemas numéricos, proporciones / proporciones, expresiones / ecuaciones, geometría y estadísticas. También agregamos una categoría de Hábitos de trabajo, ya que encontramos que a menudo existe una correlación directa con la forma en que los estudiantes trabajan en matemáticas y cómo se desempeñan en las evaluaciones.
Grados (también conocidos como puntuaciones):
4: Excede los estándares de aprendizaje
3: CUMPLE CON LAS EXPECTATIVAS DE 6to GRADO
2: acercándose a los estándares de aprendizaje
1: no a nivel de grado
Cada tarea recibe un puntaje arriba, con la posible adición de .5 a cada número. Si en algún momento un estudiante no está satisfecho con una calificación, puede comunicarse con el maestro y encontrar una manera de mostrar un nuevo aprendizaje para una nueva calificación. Ocasionalmente, una calificación puede no rehacerse, dependiendo de las circunstancias del aula. (Una nota sobre %: la calificación referenciada de los estándares no siempre se traduce en Aeries. Recomendamos que mire la calificación en sí misma para comprender cómo está su hijo.)
Trabajo perdido vs. Trabajo aún no calificado: el trabajo perdido se indica mediante un cuadrado
 rojo/naranja () Esto significa que el estudiante no entregó el trabajo. Deben hacer un arreglo con el maestro para que el trabajo se realice / entregue El trabajo aún no calificado simplemente no tiene una calificación, pero muestra cuántos puntos vale la tarea (por ejemplo, – / 4). Verifique la columna que indica "Calificación completa" para ver si las calificaciones ya se han ingresado. ¡Todas las tareas deben completarse al final del período de calificación para recibir crédito! Se aconseja a los estudiantes sobre esto, y hacemos una enseñanza / calendario explícito sobre la priorización del trabajo para tener un informe de progreso preciso.
Comentarios: Lo mas que sea posible, especialmente cuando una calificación está fuera de lo esperado, agrego un comentario para informarle más detalles. Debido a que un "3" comunica que el estudiante está haciendo lo que se espera, normalmente no hay comentarios con un 3. A menudo, el comentario será una sugerencia de que el estudiante rehaga / reenvíe el trabajo para mostrar un aprendizaje actualizado.